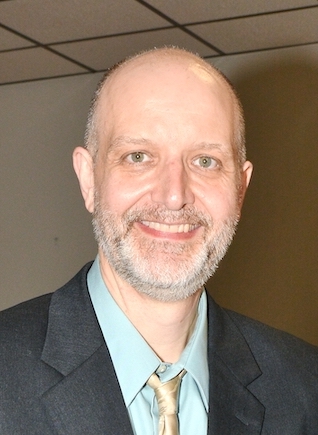 For more than a decade, Steve Darnall has had the opportunity to share his twin fascinations for American history and popular culture as the host of Those Were the Days and the publisher of Nostalgia Digest. During this time, he's had the chance to speak to thousands of radio fans across the country with seven different one-hour presentations, each one dedicated to different aspects of the "Golden Age" of radio:

A Beginner's Guide to the Golden Age of Radio. This overview looks at some of the biggest shows and stars to emerge from the early years of radio, including Jack Benny, Bob Hope, Amos & Andy, and The Shadow, with sound clips and stories about how radio became America's first mass medium, transforming the United States of America from 48 states into a national listening community.

Lights Out, Everybody: Mystery and Horror During the Golden Age of Radio. This presentation uses sound clips from some of radio's best known mystery and horror programs (including Escape, Inner Sanctum and Lights Out) to illustrate how radio could truly be a "Theater of the mind" and use music, voices and sounds to create indelible — and often frightening — "pictures."

Old-Time Radio and the Great American Songbook. This audio-visual presentation examines how radio helped to give birth to the "Great American Songbook" by offering songs and singers a unique opportunity to present their songs to a national audience. This show uses both a Powerpoint presentation and a CD of clips featuring some of the greatest songwriters of the 20th century as they were heard on radio—including Johnny Mercer, Irving Berlin, Cole Porter, and a rare 1934 performance from George Gershwin!

Heroes On the Air. This audio-visual presentation puts the spotlight on those heroes who made their way from comic strips and comic books to radio in the 1930s, including Little Orphan Annie, Dick Tracy and Superman, as well as some legendary heroes who began in radio... and went on to conquer the world.

Radio Goes to War. World War II was the first war in history to receive almost continuous coverage on radio. This one-hour presentation examines how radio rose to the challenge of life during wartime, with sounds clips from news broadcasts, presidential speeches, entertainment shows, programs designed to boost morale (both at home and among the armed forces) and more!

Radio in the 1950s: From Golden Age to TV Age. The ascension of television led many of radio's biggest stars and shows to leave the old medium for the new one. This presentation examines how radio evolved as its Golden Age ended and a new age began, with news, talk, music and a new generation of comedy!

The Windy City on the Air: Chicago and the Golden Age of Radio. Chicago was a major radio epicenter during the medium's early years. This program explores Chicago's many groundbreaking contributions to the medium, including soap operas, juvenile adventure serials, early morning radio shows and local legends that became national sensations.

'Tis the Season: Holiday Traditions from Radio's Golden Age. For many people, the holidays are a time of traditions—and there were plenty of entertaining traditions during the "Golden Age" of radio, from Jack Benny's annual shopping trips to Lionel Barrymore's portrayal of Ebeneezer Scrooge. This presentation offers a box full of classic seasonal sounds from radio's past, designed to spur the imagination and share a bit of Yuletide spirit.

Each of these presentations is approximately one hour in length and each one is suitable for any age group. If you'd like Steve to give one (or more) of these presentations to your group, please click here.

A BRIEF SUMMARY OF STEVE DARNALL

Steve discovered the Golden Age of Radio at age 12, when his father Jack turned the dial to Chuck Schaden's Those Were the Days and out came the sounds of Fibber McGee and Molly. Thus began a relationship with the early days of radio that continues to this day.

Steve's own radio career began as a freshman at Lyons Township High School in LaGrange, Illinois, when he joined the school's 10-watt station, WLTL. Steve was ostensibly brought on as a newsreader, but his fascination with the Golden Age of Radio led station management to offer him a two-hour show, Radio's Golden Age, which would air Saturday mornings. The show ran for six months as Steve tried to divide his time between radio and his other love, theatre; however, he vowed he would keep the name Radio's Golden Age in case he should need it again.

Between then and now, Steve tried his hand as an actor and spent several years as the "voice" of Klondike Ice Cream. (This opportunity allowed Steve to work "with" Gary Coleman as Steve asked William Shakespeare "Would you write a TV sitcom for a Klondike Bar?") In the 1990s, he tried his hand as a professional musician with the sardonically named Steve Darnall and the Ultimate Career Move.

Steve's professional writing career began in 1984, when he sold a brief article to the late, lamented Trouser Press Magazine. (Presumably the check will be arriving any day now.) In 1993, Steve contributed his first article to Chuck Schaden's Nostalgia Digest, a piece about the great Bob and Ray. That same year, Steve joined the staff of Hero Illustrated, a publication about the comic-book industry, as a writer and editor, leaving in 1995 to enter the world of freelancing.

However, he wasn't done with comic books yet. In 1994, Slave Labor Graphics published the first issue of Empty Love Stories, in which Steve and a plethora of talented artists spoofed the breathless world of romance comics. After two issues with Slave Labor Graphics, Steve decided to try his own hand at publishing, and thus Funny Valentine Press was born. During this time, Steve and his good friend Alex Ross collaborated on Uncle Sam, a two-issue series for DC Comics' Vertigo imprint that won raves from both The New York Times and The People's Tribune. Subsequent comics-related projects have included "Nikki Tesla, Kid Inventor," a short-lived strip (produced with artist Greg Hyland) for Disney Adventures magazine; the ten-issue series Peter Cannon: Thunderbolt, published by Dynamite Comics; and Marvel, a six-issue anthology series from Marvel Comics published in 2020-21.

Steve also spent the latter half of the '90s as an entertainment writer for a variety of publications, including the weekly newspaper insert Coverstory and the Chicago Tribune. As a contributor to the Tribune's Friday, Tempo, and Arts sections, Steve interviewed artists, writers, and performers of all stripes--including Those Were the Days founder Chuck Schaden.

In 2004, Chuck decided to cut back on his workload and contacted Steve about taking over as publisher and editor of Nostalgia Digest Magazine. Steve's tenure began with the Summer 2005 issue. In early 2009, Chuck announced his plans to retire from radio and Steve agreed to step into the role of the host and producer of Those Were the Days, beginning with the July 4, 2009 broadcast.

Later that year, YesterdayUSA founder Bill Bragg invited Steve to contribute a weekly program to his internet radio station. Steve agreed, and in March of 2010 Radio's Golden Age made its return. The program ran for six years and some 317 shows before Steve wrapped up production with the March 27, 2016 edition; in 2021, the internet channel Stay Tuned America began replaying past editions of Radio's Golden Age. More recently, Steve programmed the World War II music channel for AccuRadio and served as a Radio Consultant on the 2021 movie Being the Ricardos.

In response to numerous inquiries, Steve launched the Nostalgia Digest Podcast in 2012, producing 100 podcasts over eight years before the series went on hiatus. The Nostalgia Digest Podcast was devoted to people, performers, topics and shows that have been featured in past issues of Nostalgia Digest and can be found at iTunes and by clicking here.
Steve lives in Chicago with his wife Meg Guttman.