Hello... I Must be Going
BY CHUCK SCHADEN
In 1959, after being released from the Army, I became a full-time member of the staff of North West Federal Savings in Chicago.
Shortly after I began, someone from the personnel department gave me information about the companyís retirement program, my "official" retirement date was determined and I was told how soon the company and I w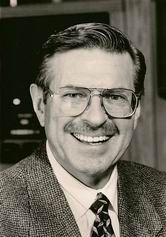 ould start contributing to my pension.
My official retirement date was June 29, 1999 -- my 65th birthday.
1999! Do you know how far away that date was, especially from 1959? Forty years! Retirement was not on my mind in those days.
Time marches on.
In 1964 I left the S&L and became editor of a group of community newspapers on Chicagoís Northwest Side. A few years later, in 1970, I began hosting a radio program called Those Were The Days on WLTD, a small station in Evanston, Illinois.
In 1975 TWTD moved to WNIB in Chicago and in 1977 I was invited to rejoin the staff of North West Federal. I did, continuing with the radio program while a part of North Westís marketing department.
In 1982, during a time of many mergers and consolidations in the S&L industry, I decided to leave NWF and concentrate on my broadcast career.
In 2001 WNIB was sold and Those Were The Days moved to WDCB, the public radio station at College of DuPage.
Did you notice how June 29, 1999 came and went during this time?
How did this happen?
All of a sudden, it seemed, I turned around and hit my "official" retirement date! I wasnít ready for retirement, although I did try to cut back a bit on some of my broadcast and related activities, seeking some "personal" time after all the years.
But Those Were The Days continued without missing a beat.
Recently, I turned around again and found myself staring at June 29, 2009 -- ten years after my "official" retirement date. That date is coming up quickly now, and I will have completed 39 years of broadcasting and have marked more than 2,000 Saturday programs when it gets here. And I will be celebrating my 75th birthday.
Itís now time to retire.
Really.
Itís time for my wife Ellen and me to take the time weíve actually been seeking for a number of years. A time when we have no other obligations except to ourselves and our family.
So my new "official" retirement date is the end of June, 2009 and my last Those Were The Days program will be Saturday, June 27. WDCB is hosting my retirement party and youíre invited to tune in or drop in during the show.
Iím happy and proud to say that Those Were The Days will continue.
Beginning July 4, the four-hour Saturday show on WDCB will be hosted by Steve Darnall, who has been editor and publisher of Nostalgia Digest Magazine for the past four years.
Steve is a talented man with a radio background who grew up listening to our broadcasts of old-time radio. (He interviewed me for a high school radio station in 1978!) He will join Ken Alexander and our regulars to bring you all the great vintage programs youíre used to hearing, plus the usual information and features every week.
Special thanks to WDCB for their willingness to continue carrying the program for the thousands and thousands of listeners out there in Radioland.
And thanks to you for giving me a wonderful career in radio.
I have enjoyed every minute of it and I will miss being with you on Saturdays, but you can be sure Iíll be tuning in.
Iíve said this many times, but never before does it mean as much as it does now:
Thanks for listening.
Chuck Schaden signing off WDCB-FM (90.9),
but ĎThose Were the Daysí will continue.
HOMAGE TO BENNY | Host of nostalgic radio
broadcasts signing off after 39 years
April 24, 2009
LEWIS LAZARE
Media & Marketing columnist
llazare@suntimes.com
After a hugely productive and heavily nostalgia-laden 39 years in broadcasting, Chuck Schaden will sign off for the last time as host of his long-running radio show "Those Were the Days" on June 27, though the show itself will live on.
Schaden's final broadcast on College of DuPage-owned WDCB-FM (90.9) will air live from the Morton Grove Civic Center and will be staged as an "open house" for Schaden's fans. The final program will consist of highlights from Schaden's nearly four-decade-long run helming "Those Were the Days," which re-airs great radio programs from the 1930s, '40s and '50s -- programs that featured many talents now considered show business legends, including Bob Hope, Edgar Bergen and Jack Benny.
Schaden has tapped Steve Darnall to replace him as host, and Ken Alexander, who has worked alongside Schaden as on-air announcer, will continue working with Darnall. Hosting "Those Were the Days" will be Darnall's first foray into the radio business, though he is quite familiar with the rich reservoir of material Schaden celebrates weekly. Four years ago, Schaden sold his Nostalgia Digest Magazine to Darnall, who for many years had listened to -- and loved -- "Those Were the Days." Schaden says Darnall will have no trouble handling "Those Were the Days" because he already knows so much about the old-time radio material.
Schaden was under no pressure to retire, but he felt his 39th anniversary in radio was the right time to do it. Why? Well, as you might suspect, it's partly an homage to one of his favorite radio icons, Jack Benny, who famously celebrated his 39th birthday some 41 times. Plus, Schaden turns 75 two days after his final broadcast. "That's 10 years after I would normally have bowed out," said Schaden.
Over nearly four decades "Those Were the Days" was heard on only three radio stations. The show debuted in 1970 on the defunct WLTD-AM (1590) in Evanston, then moved to the former WNIB-FM before it was sold, and finally to WDCB in 2001.
(c) Copyright 2009 Chicago Sun-Times

Michael Sneed
Chicago Sun-Times, June 21, 2009
sneed@suntimes.com
Radio Days
I don't stream, I don't Twitter, I don't do Facebook. But at 1 p.m. most Saturdays, I do the radio.
I turn my radio dial to WDCB-FM (90.9); sit at my kitchen table; pay bills, answer letters, flutter paper, stamp envelopes . . . and go back in time -- back to the womb of my grandmother's kitchen, where the radio held sway.
During this special time, there is no laptop streaming, no TV blaring. It's now post-World War II, the men in my family are home, and Grandma listens to the sad life of "Stella Dallas," the stories of "Pepper Young's Family" and the antics of "Fibber McGee and Molly" while she cooks and watches my mother put on an apron.
Listening. That's what I do for four hours on Saturday; listening to a guy named Chuck Schaden serve up the golden age of radio, which he has done since 1970.
And on my kitchen windowsill sits a small black-and-white photo of my mother, grandmother and me in my grandparents' kitchen.
It was taken on Nov. 16, 1948, and I have just turned 5 years old. My dark hair is twisted in long funnels; I am wearing a jumper and white anklets, and I am watching the most important women in my young life frost my birthday cake.
My back is to the camera, but if you look closely you can spot the little radio in the windowsill of their two-story home in the the little Missouri River town of Mandan, N.D.
On weekends, we would spin the dial on the large Zenith radio up against the wall in the living room, where we listened to "Inner Sanctum Mysteries," "Gang Busters" and "Suspense."
The sounds of the kitchen radio stopped for a while, when my grandmother died. Worn out from the daily chores of a woman in ill health, she passed away when she was only 56. It changed my view of the world; death had crept into my young life.
The radio continued to occupy a place in my mother's kitchen for as long as I can remember. But the magic was gone . . . along with organ music and a world before 1955.
Then, sometime in the 1990s, my grandmother's kitchen magically reappeared. My family was no longer separated by geography . . . and death.
I became addicted by a chance turn of the dial. It was Chuck Schaden's radio show. Once again, I was helping crank up homemade ice cream in the backyard . . . and squeezing the orange pellet in the margarine packet to make it look like butter.
I got to re-hear the goofy phrases my parents once used: "He's such a Stoopnagel" . . . or "your boyfriend has eyes like Moon Mullins."
I found out I knew most of the words to the 1940s torch songs and laughed again when Mel Blanc bleated: "Kookamonga!"
How much I'd forgotten. How wonderful to hear it once again.
I have since scrubbed floors listening to "Sam Spade: Private Eye"; wrapped Christmas presents listening to "The Cinnamon Bear"; howled at the repartee of Phil Harris, and am held in wonder at the comedic timing of Jack Benny.
Sadly, although the radio show will continue, its host since 1970 has decided to call it a day. Schaden is retiring next Saturday. Thankfully, the new host will be Schaden's old friend, Steve Darnell, and sidekick Ken Alexander . . . but I'll miss the voice I've been listening to for nearly 15 years.
Retiring after 39 years on the radio, Schaden will turn 75 on June 29. His buddy, Dan McGuire, thought Schaden's birthday might be worth a mention in the column.
How about a whole column, Chuck?
My Saturday stint at the kitchen table will never be the same; your voice will now be part of my past.
But, how golden it has all been.
(c) Copyright 2009 Chicago Sun-Times

Michael Sneed
Chicago Sun-Times, June 28, 2009
sneed@suntimes.com
Memories
Sneed's column on radio reflections and the retirement of old-time radio host Chuck Schaden netted many responses from readers yearning for the golden age of radio. Among them:
I cried all the way through this! You helped me remember sitting with both grandmothers and my grandfather, listening to the radio. I remembered a lot of the programs, what we now call soaps, every day. My grandfather particularly liked "One Man's Family'' and called my kid brother and me "the bewildering offspring!'' And both grandmothers were great cooks. After my father died (he was 36 and I was 10), we would have Friday night supper at his parents' house just 'round the corner from ours. Oh, my! What things I'm still dragging up from the depths of my mind. I'm 74 now and the memories are as fresh as they were 50 and more years ago!
Emme W.

Just had to let you know how much we enjoyed the column about Chuck Schaden and "Those Were the Days.'' Roger and I have been faithful listeners since 1970, the year we were married. We didn't own a TV then and radio was a great source of entertainment. We'll miss Chuck, but plan to keep listening on Saturdays.
Mary Ann G.
I was so touched. . . . It was so nostalgic, so wonderful. . . . It brought a wonderful smile to me and such a good feel. I think I'll cut it out and keep it, it was so delicious.
Marylin M.
Your column on Chuck Schaden was awesome. . . . It's his voice that's kept radio magic alive. Makes me miss my dad.
Jim C.
Thanks so much for the swell (1940s word) column about my pal Chuck Schaden.
I would not have guessed that you are old enough to remember "Fibber McGee," Stella Dallas, et al from hearing them in their original airings.
Dan M.
Thanks for the walk down memory lane. Chuck Schaden has lots of fans, he will be missed. Thanks to you, he will be remembered.
Libby C.
I am 29 years old and have been listening to Chuck since 1993. I missed the golden age of radio, but I love to hear what is was like at that time. I have my own memories -- especially those Saturdays in December where I can wrap, bake and decorate to the sounds of the radio.
Jennifer P.
Thanks for the nice send-off to Chuck Schaden. He gave a lot of pleasure to folks who never would have had a chance to hear the early days of radio. (The picture looks exactly like my in-laws' kitchen in Wauwatosa.)
Doug D.
You know what was really cool . . . the whole family sat together, in the same room, all listening [to the radio], hanging on every sound!! No fighting or texting.
Bill K.
And finally, this one:
This morning I was overwhelmed. Your personal and thoughtful words about what my vintage shows have meant to you really touched me, and by the time I reached the end of the page, tears were running down my cheeks.
It really means a lot to me to know that you have been listening for such a long time and that the sounds of those great radio days were able to bring back to you memories of precious days gone bye.
The photo of you with your grandmother and mother is a treasure, and I'm so happy you decided to share it with your readers. I have a photo of myself at the age of 4, sitting on the floor in front of our Zenith console radio -- one just like yours -- against the wall, next to our 1938 Christmas tree.
So thanks for the whole column. You made my day and gave me a beautiful birthday gift. And while I'm looking forward to retiring from the broadcasts, I'll miss being on the air and will be tuning in with so many others. But it won't be the same for me, either.
Warm personal regards,
Chuck Schaden

c) Copyright 2009 Chicago Sun-Times
Radio legend: Morton Grove's Schaden signs off
MORTON GROVE CHAMPION, June 30, 2009
By NICK KATZ nkatz@pioneerlocal.com
A decades old photograph of Chuck Schaden shows him as a young boy, a broad smile splitting his face, sitting on the floor, leaning against a huge floor-standing radio that towers over him.
In a way the photo foreshadows the huge role radio would have in Schaden's life.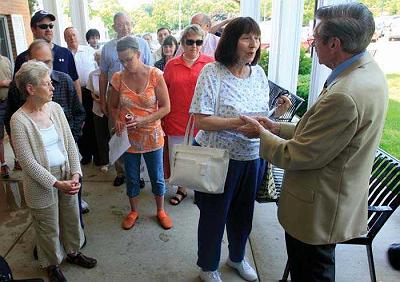 That was apparent Saturday as friends and fans lined up to shake Schaden's hand and become a little part of history as they watched in the final broadcast of his radio show "Those Were the Days." The combination retirement party and open house was held at the Morton Grove Civic Center.
The final show marked the end of a 39-year broadcast career that gave Schaden a chance to share his love of old time radio with fellow radio fans across the country.
"I'm coming face to face with reality and I'm sliding into retirement mode,' Schaden said a few days before the final broadcast. "I'm going to miss doing my radio show. Somehow in life you know when it's time to say this is it, it's time to start a new phase in life."
Over the years Schaden has gained a reputation as an expert in what is often called the Golden Age of Radio, the era before the dominance of television when families would crowd around the radio and imagine themselves part of great radio dramas like "The Shadow" or "Gunsmoke" or laugh along with Jack Benny and Fibber McGee.
Schaden has tried to keep those programs and those memories alive since starting his show in 1970.
Schaden sees significance in his retirement after 39 years. After all, in an ongoing gag Jack Benny was always 39-years old.
"I chose 39 years because, well, you know, Jack Benny was 39. It's an iconic number, the holy grail of numbers of old radio fans," Schaden said.
But Schaden himself admits to age 75 and figured it was time to give up the show. In addition to his time on air, Schaden said he has to spend hours preparing for each one.
In addition, any time he wants to leave town for a few days, he has to prepare in advance.
"I'm happy to be able to have time now. Any time I took off in the past I had to do all kinds of preparation work," he said.
"This is nice. My wife (Ellen) and I can be a little more spontaneous, he said." "It's time to take a break, for Ellen and I to have some time together."
He also plans to spend more time with family. Four grandchildren live in Morton Grove where Schaden has lived the last 47 years the other two live in Grayslake.
Last week the Mayor Dan Staackmann proclaimed June 27 Chuck Schaden Day and the village renamed his block of Marion Avenue after him.
It was actually the second time Schaden has had a special day. In 2002, after he received the Studs Terkel Humanities Service Award the village held the first Chuck Schaden Day.
In his years on the radio Schaden also has had other honors.
Schaden is one of the founders and a board member of the Museum of Broadcast Communications, where he donated his collection of 50,000 tapes of old radio programs. He was named to the Radio Hall of Fame in 1993.
Schaden also gives his wife, Ellen, credit for allowing him to spend so much time on the show. "She said it was OK if I didn't cut the grass on Saturday afternoon," Schaden said.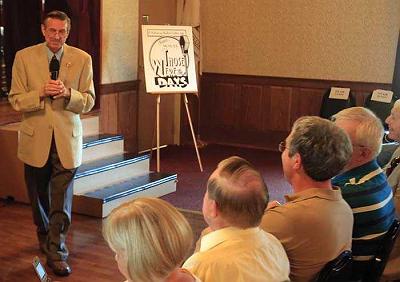 Schaden said he credits listeners for much of the show's success.
"If the listeners didn't get involved it would just be one guy talking. But it's been a two-way street, it really has. Almost from the beginning," Schaden said.
"When I first went on I didn't know if anybody was listening out there."
He offered a flyer to listeners and had a huge response. "I said 'If you want one send me a box top.' We got hundreds of box tops. So I knew people were there."
Since then he's found a multigenerational interest in old radio.
There are listeners like him who enjoyed the programs when they were young. But he also runs into young people who also enjoy the same shows that entertained their grandparents and parents.
"I have little kids coming up to me doing Jack Benny routines, which is really neat," Schaden said.
He's also interviewed many of the famous radio stars like Eve Arden, who he said were more like regular people than television and movie stars.
"They weren't affected by the glamour. People didn't know what they looked like," Schaden said. "They could be like real people. These people were so nice, a great many welcomed me into their homes."
Looking back on his radio career, Schaden concedes it turned out to me more than he ever expected.
"I never thought I'd end up teaching anybody anything," he said. "I just wanted to share something. I'm just so thrilled about it.
"I'm like George Bailey. I've had a wonderful life," he added. "I've been able to do something I love for people who loved what I was doing. That's everything. Happiness is when your hobby is your work."
Simple idea turned into big show
MORTON GROVE CHAMPION, June 30, 2009
By NICK KATZ nkatz@pioneerlocal.com
Chuck Schaden's radio career started simply enough.
At age 35 Schaden approached a small Evanston radio station, WLTD, with the idea for a radio nostalgia show. The station agreed to air the program if he could find a sponsor. He got Northwest Federal Savings to sponsor an hour show, later expanded to two hours. The show has been on continuously every Saturday afternoon since May 2, 1970. When ownership and format of WLTD changed in 1975, Schaden took his show to WNIB where he stayed for 25 years, something of a record in the radio business. Sale of that station prompted his move to a station operated by the College of DuPage in 2001 where "Those Were the Days" has aired from 1 to 5 p.m. Saturdays on WDCB ever since.
For a time he also owned a nostalgia store, Metro Golden Memories.
Although Schaden is leaving, the show will continue under the guidance of host Steve Darnall. Darnall also will continue to publish Schaden's magazine, Nostalgia Digest.
"He's an actor. He's a voiceover artist. He's been listening to me since he was 13-years old," Schaden said of his replacement.
Chuck Schaden Bio
CHUCK SCHADEN, who retired on June 27, 2009, is a broadcaster/historian who has produced and hosted Those Were The Days since 1970 and has been nationally recognized for his efforts. He was inducted into the Radio Hall of Fame in 1993, the only radio fan to be so honored.
A former newspaper editor and marketing executive, he turned his hobby into a vocation and drew from a collection of more than 50,000 vintage broadcasts to prepare his programs.
He was the founding editor and publisher of the Nostalgia Digest; author of WBBM Radio: Yesterday and Today, a history of station WBBM, Chicago; and author of Speaking of Radio Ė Chuck Schadenís conversations with the stars of the Golden Age of Radio, published by his Nostalgia Digest Press.
From October, 2006 thru September, 2007 he hosted the nationally syndicated old-time-radio series When Radio Was, replacing Stan Freberg. The program was heard in more than 200 markets from coast-to-coast.
A founding member of the Board of Directors of Chicagoís Museum of Broadcast Communications, he is the Midwestís leading radio historian and a resource for public libraries, metropolitan daily and community newspapers, and colleges and universities throughout the country. He has provided archive materials to the Library of American Broadcasting at the University of Maryland and the Museum of Broadcast Communications.