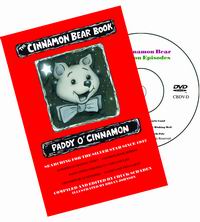 Cinnamon Bear Book with DVD
$15.95
#CBDV

CINNAMON BEAR BOOK with DVD - This delightful remembrance of the classic radio serial returns after being out-of-print for nearly 20 years!
Personal recollections of growing up in the Cinnamon Bear era; chapter-by-chapter synopsis of the complete 26-episode story; reproduction of the original Cinnamon Bear Coloring Book; chronology of the radio series; radio cast list; Maybe Land Trivia Quiz. Compiled and edited by Chuck Schaden, illustrated by Brian Johnson. Soft cover, 64 pages.

This edition also includes a DVD WITH 3 EPISODES FROM THE TV VERSION of the story which used the radio sound track and hand puppets.