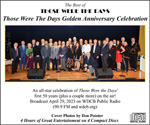 Those Were the Days Golden Anniversary DOWNLOAD
$13.95
DTW50ADL

Download includes all programs and PDF of Original Album Cover and Liner

Broadcast on April 29, 2023, this special 53rd anniversary broadcast of Those Were the Days
presented highlights from the show's special Golden Anniversary event, held (after two
delays — due to circumstances beyond our control) on April 10, 2022 at Chicago's Irish
American Heritage Center. Hosted by Steve Darnall, this celebration featured recollections
from TWTD founder Chuck Schaden and longtime contributors Karl Pearson and Bob
Kolososki, music by The Dooley Brothers and The Flat Cats, and re-creations of classic
moments from radio's Golden Age, presented by a special edition of the Those Were the
Days Radio Players. For this special event, the Players included Tim Kazurinsky (Saturday
Night Live); Rich Koz (Svengoolie); Scott Lowell (Queer as Folk); Kevin Murphy and Mary
Jo Pehl (Mystery Science Theater 3000); Jim O'Heir (Parks and Recreation); Chicago broadcasters
Mark Bazer, Will Clinger, Dag Juhlin, Wayne Messmer and David Plier; and veteran actresses
Jamie Gangi and Catherine Smitko.