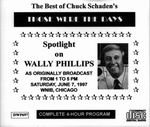 Spotlight on Wally Phillips DOWNLOAD
$13.95
DWP697DL

Download includes all programs and PDF of Original Album Cover

WALLY PHILLIPS' GOLDEN ANNIVERSARY IN RADIO
Chuck Schaden welcomes special guest Wally Phillips who began his broadcasting career in Grand Rapids, Michigan in 1947 on station WJEF. He soon moved to Cincinatti, Ohio, where he was heard on WASI, WCOP and WLW. In the fall of 1956 he joined WGN, Chicago and it was his radio home for over 40 years.
He began his WGN career doing a variety of mid-day and evening programs and in 1965 he brought his quick wit to WGN's morning drive time, quickly becoming the listeners' choice and making him a ratings leader for several decades. This program features Wally reminiscing about his half-century of radio days, a cavalcade of memorable sound clips from his WGN programs, and a full hour-long broadcast from December 28, 1964.