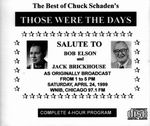 Salute to Bob Elson and Jack Brickhouse DOWNLOAD
$13.50
DBJ499DL

Download includes all programs and PDF of Original CD Cover and Liner

Chuck Schaden's Those Were The Days 29th anniversary program (4-24-99) salutes two legendary Chicago broadcasters. Bob Elson talks about his radio career in a TWTD conversation from 1980 and is heard on brief play-by-play broadcast clips, a 20th Century Limited program, and announcing a complete "Crime Files of Flamond" broadcast (4-25-48). Jack Brickhouse talks about the early days of his career in a TWTD conversation from 1977; is heard describing some of the action during a Bears-Colts football game in 1958; with Eddie Hubbard interviewing Annette Funicello and Monique Van Vooren on a Hubbard-Brickhouse show from 1961; talking with White Sox manager Al Lopez and players Nelson Fox and Early Wynn during spring training in Sarasota, Florida in 1961.