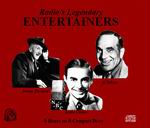 Legendary Entertainers DOWNLOAD
$16.95
DLE601DL

(6 hours on 6 Compact Discs)

LEGENDARY ENTERTAINERS: 12 historic broadcasts featuring some of the greatest stars in show business:
JIMMY DURANTE with guest Eddie Cantor (10-8-47); with guest Victor Moore (2-25-48); with guest Dorothy Lamour (4-7-48); with former partners Lou Clayton and Eddie Jackson (4-21-48). Rexall commercials.
EDDIE CANTOR with Harry Von Zell (3-7-45 and 3-14-45); with guests Jack Benny, Peter Lind Hayes, Ralph Edwards on Eddie's 55th birthday (1-30-47); with guest Al Jolson (3-6-46). Bristol Myers and Pabst Beer commercials.
AL JOLSON with guest Bing Crosby (10-16-47); with guest Judy Garland (9-30-48); Jolie sings audience requests (10-21-48); with guest Jimmy Durante (4-21-49). Kraft Foods commercials.