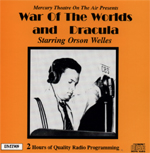 Mercury Theatre On the Air DOWNLOAD
$7.95
DMT907DL

Download includes all programs and PDF of Original Cover and Liner
Orson Welles and his Mercury Players in two
classic radio dramas exactly as broadcast


WAR OF THE WORLDS (10-30-38)
The most famous radio broadcast of all-time. Orson Welles' production of the H.G. Wells story of a Martian invasion, treated by the Mercury Players as a dramatization of unfolding news events. The program caused widespread panic throughout the United States.
DRACULA (7-11-38)
First program in the Mercury Theatre series. A classic radio version of the vampire story by Bram Stoker.