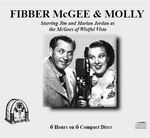 Fibber McGee & Molly DOWNLOAD
$16.95
DDF1082DL

Download includes all programs and PDF of Original Album Cover
FIBBER McGEE AND MOLLY– A dozen comedy classics from the folks who live in Wistful Vista: APRIL 1, 1941 When Molly returns from a shopping trip she discovers that the left rear fender is missing from her car. NOVEMBER 30, 1943 Fibber and Molly search everywhere in Wistful Vista for Teeney's little dog, Eddie. OCTOBER 16, 1945 Fibber has promised to get Mrs. Carstairs a Pullman car reservation on the train to Florida. JANUARY 21, 1947 McGee wants some alterations done at 79 Wistful Vista and is seeking an architect. MARCH 5, 1940 Trying to find her misplaced dictionary, Molly decides to look in the hall closet. This is the first McGee show to use the classic closet gag! APRIL 7, 1942 When Mrs. Uppington asks the McGees to contribute to the wartime scrap drive, Molly decides that it's time to clean out the hall closet. MARCH 21, 1944 Fibber has a frustrating time when he discovers his old mandolin in the hall closet. JANUARY 7, 1947 When Fibber hears a radio news bulletin about some escaped criminals, he decides to defend himself and searches for his gun in the hall closet. JUNE 5, 1945 Molly begins cleaning the hall closet but Fibber insists he do the job. As visitors drop by, Fibber and Molly reminisce about items from the closet. NOVEMBER 1, 1949 The Wistful Vista Trolley Company offers a prize for the best suggestions to improve their business, Fibber knows how to get the prize. APRIL 13, 1943 On this first show of the 9th season, Fibber is trying to repair his radio so he can hear a program about his uncle Sycamore. FEBRUARY 24, 1948 Fibber gets a neighbor to use his short-wave radio to contact an old friend in Manilla to collect a $7 debt.