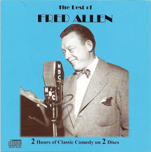 Best of Fred Allen DOWNLOAD
$7.95
DBF201DL

Download includes all programs and PDF of Original Cover and Liner
BEST OF FRED ALLEN- Excerpts: ALLENíS ALLEY #1 (4-18-48) What did you like best about the Circus?; BIG SHOW # 1 (1950s) Fred and Tallulah Bankhead spoof husband-wife morning radio shows; ALLENíS ALLEY #2 (5-9-48) Are you satisfied with the Pulitzer Prizes this year?; UNFINISHED SCRIPT (5-2-48) with Henry Morgan; GOOD OLD DAYS (1940s) Jack Benny tries to sell his Maxwell to Fred; ALLENíS ALLEY #3 (4-11-48) Have you been victimized by advertising misrepresentation?; THE BIG SHOW #2 (4-8-51) with Tallulah, Jimmy Durante, Vivian Blaine; ONE LONG PAN (4-11-48) with Basil Rathbone; MR. ALLEN (1-30-49) Fred and Portland Hoffa toss barbs at Jack Benny; MIGHTY ALLEN ART PLAYERS (3-20-40) Tub of Silver quiz show spoof; STUDIO TOUR (5-26-46) Jack Benny sneaks into Fredís studio tour.