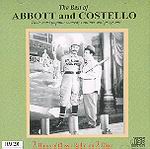 Best of Abbott and Costello DOWNLOAD
$7.95
DAC201DL

Download includes all programs and PDF of Original Cover and Liner
BEST OF ABBOTT AND COSTELLO- A collection of hilarious comedy routines and situations featuring those two top funny-men of all time, Bud Abbott and Lou Costello. Includes Who's On First?; Slowly I Turned; Moby Dick; Knots/Miles; Stunt Man; Sow the Seed; Hertz U-Drive; Baking/Loafing; complete NEW ABBOTT & COSTELLO SHOW (10-1-47) from El Capitan Theatre in Hollywood; complete ABBOTT & COSTELLO SHOW (5-5-48) with guest Bela Lugosi.