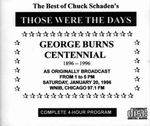 George Burns Centennial
$25.00
#DBG196

(4 hours on 4 Compact Discs)

Chuck Schaden's Those Were The Days program (1-20-96) presents a salute to America's beloved entertainer on his 100th birthday. Contains many sound clips from the radio career of Burns and Allen, including some lengthy excerpts from WW II appearances as well as some of George's musical efforts and a few early George and Gracie recordings. Also: a pair of complete Burns and Allen Shows from 2-10-41 and 11-9-43 and a Philco Radio Time broadcast from 1-14-48 with host Bing Crosby and guests Burns and Allen. Added attraction: "Happy Birthday George," an original sketch written by Ken Alexander and performed by the Those Were The Days Radio Players.