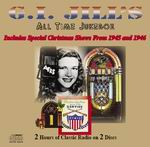 G.I. Jill's All Time Jukebox DOWNLOAD
$7.95
DGB701DL

Download includes all programs and PDF of CD Cover and Liner

G.I. JILLíS ALL-TIME JUKEBOX Jill was so popular that military listeners wanted to hear more, so this 30-minute series was also created. This set provides a quartet of shows including a pair of special Christmas-time broadcasts from 1945 and 1946 with Jill recalling the songs that were popular during Christmas seasons past and adding some personal memories.