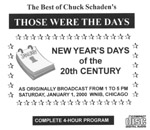 New Year's Days of the 20th Century DOWNLOAD
$11.95
DNY1100DL

Download includes all programs and PDF of CD Cover and Liner

Chuck Schaden's Those Were The Days program (1-1-2000) --the first TWTD broadcast of the 2000s-- presents a variety of New Year's Day broadcasts from various years of the 20th Century: RED SKELTON SHOW (1-1-46) New Year resolutions are the topic as Red appears as Deadeye and as Junior, the mean little kid. RAILROAD HOUR (1-1-51) Gordon MacRae offers a review of highlights from Railroad Hour programs of 1950. THE WHISTLER (1-1-50) "Evening Stroll." On New Year's Eve a college professor considers his future at the university. GREAT GILDERSLEEVE (1-1-47) Harold Peary stars as Gildy, who forgets to ask Eve Goodwin to the New Year's Costume Ball. KRAFT MUSIC HALL (1-1-48) Al Jolson stars with Oscar Levant and guest, actress Madeline Carroll. GUNSMOKE (1-1-56) "Puckett's New Year" starring William Conrad as U.S. Marshal Matt Dillon. At the end of the year, a prospector seeks to kill the man who left him to die in a snowstorm. JACK BENNY PROGRAM (1-1-50) In a New Year's Eve flashback, Jack is not going to Mary's party because he has a date, but he does propose a New Year's toast to his radio cast.