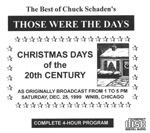 Christmas Days of the 20th Century DOWNLOAD
$11.95
DCD1299DL

Download includes all programs and PDF of CD Cover and Liner

Chuck Schaden's Those Were The Days program (12-25-99) --the final TWTD broadcast of the 1900s-- presents of variety of Christmas Day broadcasts from various years of the 20th Century: PHILCO RADIO TIME (12-25-46) Bing Crosby presents his annual Christmas program which includes many holiday carols and songs plus a dramatization of Charles Tazewell's classic story, "The Small One." LUX RADIO THEATRE (12-25-39) Producer Cecil B. DeMille presents a presentation of the animated feature "Pinocchio" featuring the voices of members of the original 1940 film cast. PHIL HARRIS - ALICE FAYE SHOW (12-25-49) Jack Benny shows up to play Santa for the Harris children. TERRY AND THE PIRATES (12-25-46) A holiday episode of the kids' adventure show, presented in rhyme. CAVALCADE OF AMERICA (12-25-44) "America for Christmas" starring Walter Huston. A group of U.S. servicemen celebrate the holiday on a small island in the Pacific during WW II as a USO troupe gives them a Christmas show about America. FIBBER McGEE AND MOLLY (12-25-45) Fibber gets a Christmas gift from Doc Gamble but no one can figure out what it is!