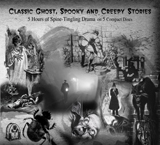 Classic Ghost Stories DOWNLOLAD
$9.95
CGS901DL

Download includes all programs and PDF of Original Album Cover



Nine of the most classic horror stories written by the true Masters of the genre. Directed and recorded by a cast of uniquely talented, professional voice actors with haunting music and sound effects to bring the stories to life.

The Gold-Bug / Edgar Allan Poe (First Published in 1843) William Legrand who was bitten by a gold beetle, spirals into madness and is convinced the bug is made of pure gold. He sets out on a treasure hunt. Follow William on his journey to find Captain Kidd's lost treasure. The Black Cat / Edgar Allen Poe (A short story first published in the August 19, 1843 issue of the Saturday Evening Post) A black cat that drove a man to murder takes you through his story from being a little crazy and alcoholism, to complete insanity and violence. The Horla / Guy de Maupassant, (A short horror story published in 1887) This psychological thriller begins with Andre who has a mild fever. Is something visiting him in the night - or is Andre insane? Markheim / Robert Louis Stevenson (A short story published in 1885) After inheriting his Uncle's fortune, Markheim becomes enraged from his gambling losses. Struggling with good and evil, he commits murders. The Signalman / Charles Dickens (Published in 1866) The story takes place in a desolate forest where the narrator meets the Signalman. Haunted by a previous collision, he sees a ghostly apparition before accidents occur. The Signalman tells the story of a haunted railway. Green Tea (The Beast with Red Eyes) / Joseph Sheridan Le Fanu The story of Robert Jenning's terrifying experience with a beast with red eyes. The beast is described as a sinister monkey like devil who appears after Jennings reads old tales and drinks green tea. Dr. Hesselius tries to help Mr. Jennings escape the deadly beast. The Tell Tale Heart / Edgar Allan Poe (First published in The Pioneer, 1843) The narrator tries to convince us he is sane, but there's something about the eye, that "vulture eye". Insanity leads to murder which causes him to become more insane. The story unfolds as you find out where the body is hidden in this scary classic. The Cask of Amontillado / Edgar Allan Poe (A short story first published in 1846)Montressor tells us about taking revenge on a nobleman named Fortunato. Montressor believes he insulted him, and has an evil plan for revenge! The Pit and the Pendulum / Edgar Allan Poe (First published in 1842) The horrifying tale of torture during the Spanish Inquisition. A prisoner in a darkened jail describes how he is tortured in great detail. Due to the lack of light, he uses his sense of sound to listen to what may happen to him. The sound effects make the story even creepier!