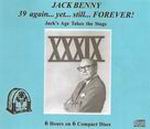 Jack Benny: 39 again... yet... still... Forever!
$29.95
#DBF039

(6 hours on 6 Compact Discs)

JACK BENNY – 39 (or so) FOREVER! Jack's age takes the stage in a dozen vintage broadcasts spotlighting his birthday. Laugh the years away with Jack and the whole gang – Mary Livingstone, Phil Harris, Dennis Day, Eddie "Rochester" Anderson, Don Wilson, Kenny Baker, Andy Devine, Larry Stevens, Artie Auerbach, Frank Nelson, Mel Blanc, Elliott Lewis, the Sportsmen and many others, including special guest stars -- in these 12 classic and hilarious Jack Benny broadcasts on NBC and CBS.

(2-14-37) Jack claims that he's "around 35." Guest star is band leader Ben Bernie.
(2-13-38) 50 candles on a birthday cake for Jack. Guest star is actor Robert Taylor.
(2-15-42) Jack tries to figure out what to do on his birthday while the gang plans a surprise party.
(2-13-44) The gang sings "Happy Birthday" to Jack and tries to guess his age.
(2-11-45) Jack celebrates his birthday, but won't tell his right age.
(2-9-47) Jack's Guardian Angel tells him to stop telling people that he's 38. Guest star is Victor Moore.
(2-16-47) Guest stars Ronald and Benita Colman and Isaac Stern turn up at Jack's birthday party.
(2-23-47) Mr. Kitzel reads a birthday poem he wrote for Jack.
(2-15-48) Jack is 39 and the Beverly Hills Beavers decide to have a surprise party for him.
(2-13-49) Jack's 40th birthday is tomorrow, but his sister claims he's going to be 39.
(2-11-51) Everyone in Jack's gang gets an invitation to his birthday party -- each with a gift suggestion.
(2-12-53) Jack, as a guest star on Bing Crosby's radio show, gets an unusual 39th birthday gift from Bing.