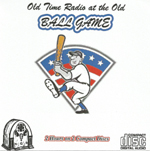 The Old Ball Game DOWNLOAD
$3.95
DBG201DL

Download includes all programs and PDF of Original Album Cover

JACK BENNY PROGRAM (10-5-41) Jack Benny with Mary Livingstone. It's the first show of the new season and Jack is a bit nervous. Mary tells what happened when she and Jack went to see the Dodgers play the Yankees in a World Series Game. NBC Network broadcast with commercials foe Jell-O.
FIBBER McGEE & MOLLY (4-21-42)Starring Jim and Marian Jordan. Molly challenges Fibber to get in to see the season opener baseball game even though the tickets are all sold out.
DAMON RUNYON THEATRE (6-26-49) "Baseball Hattie" stars John Brown as Broadway, the storyteller. When a New York Giants "baseball groupie" marries a Giants pitcher, their union is far from blissful. Syndicated series.
MY FAVORITE HUSBAND (9-16-49) Lucille Ball stars with Richard Denning as Liz and George Cooper, "two people who live together and like it!" At the bank's annual outing, George and Mr. Atterbury are captains of the two baseball teams. Of course, the wives want to play, but they must first learn the rules of the game. Complete Armed Forces Radio Sevice broadcast.