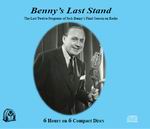 Benny's Last Stand DOWNLOAD
$16.95
DBL390DL

Download includes all Programs and a PDF of Original Cover

BENNY'S LAST STAND –The Last 12 Programs of Jack Benny's Final Season on Radio, complete with Lucky Strike Cigarette commercials. Warner Bros. wants to make "The Life of Jack Benny." Special guest is Danny Kaye (3-6-55); At the golf course (3-13-55); Jack is called for Jury Duty (3-20-55); "The Shooting of Dan McGrew" (3-27-55); Jack brings his vault guard upstairs (4-3-55); Easter Sunday on Wilshire Boulevard (4-10-55); Jack and guest Bob Hope take the telephone operators on a picnic (4-17-55); Fox Studios want to rent Jack's Maxwell (4-24-55); Jack should buy a baseball team (5-1-55); Picnic on the beach with the Beavers (5-8-55); Jack is having the living room painted (5-15-55); The sound man shows off on the final program of the 22-year series (5-22-55). Cast: Mary Livingstone, Dennis Day, Eddie" Rochester" Anderson, Bob Crosby, Don Wilson, Mel Blanc, Frank Nelson, Sportsmen, others.