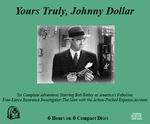 Yours Truly, Johnny Dollar DOWNLOAD
$16.95
DYT490DL

Download includes all programs and PDF of Original Album Cover

YOURS TRULY JOHNNY DOLLAR – Six complete 75-minute, 5-part adventures starring Bob Bailey as America's Fabulous Free-Lance Insurance Investigator... the Man with the Action-Packed Expense Account.
The McCormick Matter (Oct. 3-7 1955)
The Molly K. Matter (Oct. 10-14, 1955)
The Chesapeake Fraud Matter (Oct 17-21, 1955)
The Lansing Fraud Matter (Dec. 12-16, 1955)
The Flight Six Matter (Jan. 30-Feb. 3, 1956)
The Fathom Five Matter (Feb. 27-Mar. 2, 1956).
These episodes feature an outstanding cast of radio's greatest supporting players including Hy Averback, Edgar Barrier, Tony Barrett, Herb Butterfield, Mary Jane Croft, John Dehner, Sam Edwards, Virginia Gregg, Jack Kruschen, Peter Leeds, Forrest Lewis, Shep Menkin, Marvin Miller, Jack Moyles, Howard McNear, Vic Perrin, Barney Phillips, Russ Thorson, Will Wright.