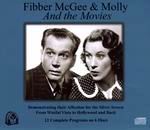 Fibber McGee & Molly And The Movies DOWNLOAD
$13.95
DMM673DL



Download includes all programs and PDF of Original Album Cover

FIBBER McGEE & MOLLY AND THE MOVIES– 11 great "movie-oriented-broadcasts. (4-26-37): The McGees are packing their new auto trailer for a trip to Hollywood, where they will be making the movie This Way Please at Paramount. (7-5-37): The McGees have completed their work on the film This Way Please and Fibber is trying to get out of their long-term lease so he and Molly can return to Wistful Vista. (4-8-40): LUX RADIO THEATRE "Mama Loves Papa" starring Fibber McGee and Molly who appear as Wilbur and Jessie Todd, who live in the town of Glenville. Wilbur is a mild-mannered office worker who loses his job and is later mistaken for the town's park commissioner only to be appointed to the actual position. (4-9-40): There's a big crowd waiting at the railroad station when the McGees return to Wistful Vista after appearing the previous evening on the Lux Radio Theatre. (3-9-41): SCREEN GUILD THEATRE "The McGees' Movie Contract" Fibber and Molly are involved in a mistaken-identity plot while they are in Hollywood to try to get into the movie business. (6-17-41): The McGees take Teeny to the amusement park, where a stranger introduces himself as a representative of RKO Radio Pictures. He wants to sign the McGees to a contract to appear in a movie called Look Who's Laughing with Edgar Bergen and Charlie McCarthy. (6-24-41): The McGees are packing for their train trip to Hollywood, where they will appear in the film Look Who's Laughing. (11-4-41): The McGees, are getting ready for the premiere of Look Who's Laughing, to be held in Wistful Vista. (11-11-41): Fibber and Molly go to the Wistful Vista airport to meet Bergen and McCarthy, who are coming to town for the premiere of their new picture, Look Who's Laughing. (2-17-42): After appearing in the film Look Who's Laughing, Fibber still wants to be a movie comedian. (9-28-43): The McGees decide to go to the movies, but Fibber can't find a nickel for some candy and disrupts the entire theater.