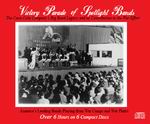 Victory Parade of Spotlight Bands DOWNLOAD
$18.95
#DVSB450DL

Download includes all programs, PDF of 28 Page Booklet and Original Album Cover

VICTORY PARADE OF SPOTLIGHT BANDS The Coca-Cola Company's big band legacy and its contribution to the war effort. An outstanding collection of 25 of America's most popular big bands broadcasting live from military bases and defense plants from coast-to-coast during World War II. Featuring the music of Sammy Kaye, Lionel Hampton, Orrin Tucker, Bobby Sherwood, Jack Teagarden, Leo Reisman, Bob Chester, Alvino Rey, Johnny Long, Tommy Dorsey, Jimmie Lunceford, Johnny 'Scat' Davis, Harry James, Shep Fields, Frankie Carle, Gene Krupa, Louis Armstrong, Frankie Masters, Les Brown, Bob Crosby, Sonny Dunham, Eddy Howard, Lawrence Welk, Benny Goodman, Buddy Rich. 31 digitally remastered band remotes originally broadcast from 1942–1945. Plus comprehensive 28-page program guide offering detailed program notes and history of the Spotlight Bands program by big band historian Karl Pearson.