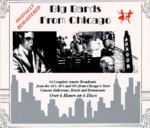 Big Bands From Chicago DOWNLOAD
$18.95
#BBCD601DL

Download includes all programs, PDF of 16 Page Booklet and Original Album Cover

BIG BANDS FROM CHICAGO- A collection of 14 complete remote broadcasts of the 1930s, '40s and '50s from Chicago as the nation's big bands send music coast-to-coast from ballrooms, hotels and restaurants in the Windy City: Dick Jurgens, Earl 'Fatha' Hines, Jan Garber, Kay Kyser, Jerry Gray, Benny Goodman, Eddy Howard, Duke Ellington, Griff Williams, Woody Herman, Frankie Carle, Joe Sanders' Nighthawks, Ted Weems, Count Basie. Digitally remastered remotes plus 16-page booklet with detailed broadcast information, program notes and history of the bands and the locations. Compilation by big band historian Karl Pearson.