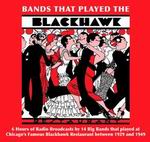 Bands That Played The Blackhawk DOWNLOAD
$18.95
BHK182DL

Download includes all programs, PDF of 24 Page Booklet and Original Album Cover

BANDS THAT PLAYED THE BLACKHAWK––On-the-air broadcasts of 14 big bands that played at Chicago's famous Blackhawk Restaurant between 1929 and 1949. Coon-Sanders Nighthawks (1929); Bob Crosby (1938-40); Jack Teagarden (1939); Art Kassel and his Kassels in the Air (1940); Ozzie Nelson (1940); Blue Barron (1940); Raymond Scott (1940); Les Brown (1941); Chico Marx (1942); Del Courtney (1945); Eddy Howard (1948); Buddy Moreno (1949); Al Trace and his Silly Symphonists (1949). Compilation by big band historian Karl Pearson. Includes descriptive 24-page booklet with track details and program notes; informative essay on the Blackhawk by noted Chicago band historian Chuck Sengstock; illustrations and photos from the Blackhawk/Roth family archives. BONUS CD– Broadcast historian Chuck Schaden's 1980 interview with Don Roth, son of Blackhawk Restaurant founder Otto Roth and subsequent owner of the venue.