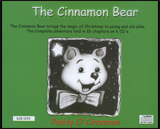 Cinnamon Bear DOWNLOAD
$13.95
DLDCB1225



This Download Version has been edited to present the entire program in 6 files, each approximately 45 minutes long, rather than the 26 individual chapters on the CDs. Music introductions and closings between each chapter have been replaced with a chime tone. Download includes all programs and PDF of Original Album Cover


THE CINNAMON BEAR It's the beloved Christmastime serial that's been a radio favorite since 1937. Judy and Jimmy Barton can't find the Silver Star for the top of their Christmas tree. While searching in the attic of their home, they meet Paddy O'Cinnamon – the Cinnamon Bear. He shows them how to "de-grow" and takes them to Maybe Land where they meet the Crazy Quilt Dragon, the Wintergreen Witch and others as they try to find the Star. EXTRA– Includes the 1937 15-minute Cinnamon Bear PREVIEW RECORDING for radio stations and potential sponsors.