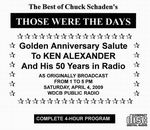 Golden Anniversary Salute to Ken Alexander
$25.00
#DKA50

(4 hours on 4 Compact Discs)

Chuck Schaden's Those Were The Days program (4-4-09) salutes the veteran Chicago announcer on his 50 years on the air. Ken got his first radio job in the Spring of 1959. To mark the occasion this entire program is devoted to his career, presenting highlights of past broadcasts and showcasing the remarkable talents of a remarkable broadcaster.

HIGHLIGHTS– Hallowe'en show sequence: The Maltese Pumpkin; MGM Shop commercial: Maltese Falcon sequence;TWTD Radio Players: George Burns Centennial; Yesterday's Newspaper; WNIB Anniversary; WNIB Zypher excerpt; The Spirit of America; MGM Shop commercial: Lone Ranger; Ken breaks up on the air; United Airlines' Symphonic Patterns excerpt; Ken's Victor Borge routine; Ken provides all the voices in holiday story An Old Time Radio Christmas Carol; Auld Lang Syne.