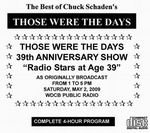 39th Anniversary Show "Radio Stars at Age 39"
$25.00
#DTW39A

(4 hours on 4 Compact Discs)

Chuck Schaden's Those Were The Days program (5-2-09) says "thanks for listening" with a selection of vintage broadcasts featuring radio stars at their actual age of 39!

BOB HOPE SHOW (10-13-42) Hope, age 39, with the first broadcast from the Hollywood Canteen. Guest is actress Bette Davis. CHARLIE McCARTHY SHOW (6-21-42) Edgar Bergen, age 39, with Mortimer Snerd, Judy Garland and Bud Abbott and Lou Costello. FIBBER McGEE AND MOLLY (12-9-35) Jim, age 39, and Marian Jordan, as the McGees, shop at the Wistful Vista Department Store. LONE RANGER (12-12-41) Brace Beemer, age 39, stars as the Masked Man in "The Iron Box" with John Todd as Tonto. SPORTS NEWSREEL (10-25-46) with Bill Stern, age 39, in New York City with guest Gene Autry at Madison Square Garden. JACK BENNY PROGRAM (3-31-33) Jack, actually age 39, and the gang do a parody of the Mae West film She Done Him Wrong.