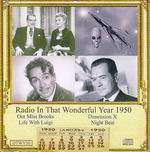 Radio in That Wonderful Year 1950
$12.95
#DTWY50

(2 hours on 2 Compact Discs)

RADIO IN 1950 – OUR MISS BROOKS (12-3-50) Eve Arden stars as Miss Brooks who tries to discourage Mr. Conklin from playing the tuba with the Madison High School band in the Music Festival. Gale Gordon is Osgood Conklin, with Jeff Chandler as Mr. Boynton and Richard Crenna as Walter Denton. DIMENSION X (4-8-50) "The Outer Limit" is the first shows in this science fiction series. The test pilot of an experimental rocket plane returns to tell of a contact with aliens and warnings for Earth. Cast includes Joseph Julian, Wendell Holmes, Joe DeSantis. NIGHT BEAT (8-21-50) "Stay of Execution" starring Frank Lovejoy as Randy Stone, reporter for the Chicago Star, who is assigned to visit Joliet State Prison to cover an execution. LIFE WITH LUIGI (6-6-50) J. Carrol Naish stars as Luigi Basco who is having a problem with his telephone party line neighbor, causing many troubles. Alan Reed is Pasquale, Hans Conried is Schultz and Jody Gilbert is Rosa.