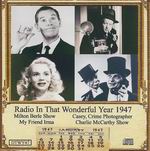 Radio in That Wonderful Year 1947
$12.95
#DTWY47

(2 hours on 2 Compact Discs)

RADIO IN 1947 – MILTON BERLE SHOW (9-16-47) "Salute to Radio." As the fall broadcast season begins, Milton spoofs many of the popular returning shows. Cast includes Frank Gallop, Pert Kelton, Arnold Stand, Frank Albertson, Arthur Q. Bryan. CASEY, CRIME PHOTOGRAPHER (7-24-47) "Photo of the Dead" starring Staats Cottsworth as Casey, with John Gibson as Ethelbert and Jan Miner as Ann. Tony Marvin announces. Casey's friend claims he has been in communication with his dead wife... and he has a photo to prove it. MY FRIEND IRMA (12-15-47) Irma is disappointed because she wants to go dancing but boyfriend Joe doesn't Rhumba. Marie Wilson stars as Irma Peterson, with Cathy Lewis as Jane Stacy, John Brown as Al and Hans Conried as Professor Kropotkin. CHARLIE McCARTHY SHOW (9-21-47) Edgar Bergen with guests Walt Disney and Donald Duck (Clarence Nash) join Charlie, Mortimer Snerd and the cast for their version of Disney's picture, "Fun and Fancy Free."