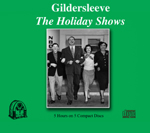 The Great Gildersleeve: The Holiday Shows
$29.95 $24.95 On Sale!
DGH601

EASTER (4-25-43) Harold Peary stars as Gildersleeve. It's Easter weekend and a crate of rabbits has been delivered to the house. Includes an Easter message from the sponsor. INDEPENDENCE DAY (6-9-46) Gildy recalls the Jolly Boys' Fourth of July picnic from the previous year. HALLOWE'EN (10-29-47) Gildersleeve plans a quiet Hallowe'en party for himself and Mrs. Dalrymple, but discovers the evening won't be as intimate as he'd hoped. THANKSGIVING (11-22-42) Gildy makes plans with Judge Hooker for Thanksgiving dinner, while Leroy has to portray John Alden in a school play. CHRISTMAS (12-21-41) From the show's first season on the air. Gildy receives a package from Fibber McGee marked "Do Not Open 'Til Christmas." With Arthur Q. Bryan as Mr. Llewellyn. CHRISTMAS (12-23-45) Leroy asks about his Christmas gifts and Marjorie asks permission to go out on Christmas Eve. Gildy fears the children are missing the spirit of the season. CHRISTMAS (12-10-47) Gildy heads to the department store to do his Christmas shopping "early." CHRISTMAS (12-20-50) Willard Waterman as Gildersleeve visits a group of children at the hospital and reads the story, "Why The Chimes Rang." HAPPY NEW YEAR (12-31-44) New Year's Eve and Gildy is trying to avoid both a Breach of Promise lawsuit and a New Year's Eve engagement with Judge Hooker. HAPPY NEW YEAR (12-31-52) Gildersleeve has plans to take Grace Tuttle (Mary Shipp) out for New Year's Eve, but ends up at Peavey's drugstore instead.