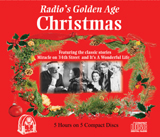 Radio's Golden Age Christmas
$21.95 $17.95 On Sale!
#DGA1224

(5 Hours on 5 CDs) The Holiday Season was a very special time during radio's Golden Age. Here is a wide assortment of programming during those times featuring two radio adaptations of the best loved Christmas films. It's A Wonderful Life: Lux Radio Theatre's adaptation of the classic 1946 film with Jimmy Stewart and Donna Reed re-creating their screen roles. Miracle on 34th Street: Lux Radio Theatre presents the radio version of the 1947 film about Macy's Santa Claus with Edmund Gwenn re-creating his movie role as Kris Kringle. The Red Skelton Christmas Show of 1951: Features Red as many of his characters during the Christmas Season. The Jimmy Durante Show of 1947: with Jimmy as Santa Claus and guest Margaret O'Brien on Santa's rounds for the night. And an assortment of holiday skits, music and stories featuring Al Jolson, Bob Hope, Boris Karloff, Charlie McCarthy, Gary Cooper, Hopalong Cassidy, Orson Welles, Spencer Tracy, Bing Crosby, Dixie Lee and Family.