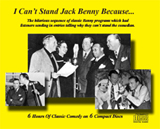 I Can't Stand Jack Benny Because...
$29.95
#DCS45

(6 hours on 6 Compact Discs)

In the middle of the 1945-46 season, Jack Benny and his gang presented twelve programs dealing with the presumption that since 30 million people tune into the Benny Show each week, and since there are 130 million people in the country, there must be 100 million who don't like the program or Jack! The show's press agent suggests a contest, Jack is mortified because he has to come up with the $10,000 prize for the best entry. Joining in the fun are Fred Allen and Ronald Colman. Disc 1: (10-28-45) Jack dreams that he won big money by betting on a horse and finds himself the victim of a hold-up! (11-4-45) A week after being held up, Jack is sick in bed, where he gets a threatening call from the hold-up man. Disc 2: (11-11-45) Rochester tries to get Joe Louis to work as Jack's bodyguard, but the boxer only wants to be a comedian. (11-25-45) Jack learns that the robbery was a publicity stunt cooked up by press agent Steve Bradley. Disc 3: (12-2-45) Steve Bradley comes by to explain his latest brainstorm: The "I Can't Stand Jack Benny Because..." contest! (12-9-45) Jack and the gang receive the first batch of contest letters. Later, Jack dines at the Colmans. Disc 4: (12-16-45) A parade of mail carriers come to Jack's house with more contest entries. Louella Parsons guest stars. (12-23-45) With the deadline for contest entries fast approaching, Jack invites the Colmans over for dinner. Disc 5: (12-30-45) The gang sort through the last batch of contest entries. (1-6-46) Mary recalls how Jack went to the Rose Bowl on New Year's Day. Disc 6: (1-27-46) Fred Allen announces the winner of the contest. Jack must now give away $10,000! (2-3-46) Jack and Mary go to see violinist Isaac Stern. Ronald Colman reads the winning contest entry.