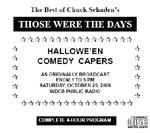 Halloween Comedy Capers
$25.00
#DHC1008

(4 hours on 4 Compact Discs)

Chuck Schaden's Those Were The Days program (10-25-08) offers lots of trick-or-treat-style pranks as featured on these vintage seasonal shows: FIBBER McGEE AND MOLLY (10-24-49) Gildersleeve tells a ghost story and Fibber has some fun at Gildy's expense. BABY SNOOKS (11-1-46) Daddy vows to teach a lesson to Snooks and her friends as they go trick-or-treating. FATHER KNOWS BEST (10-29-53) His family wants a Hallowe'en party and some trick-or-treat fun, but Father knows best! JACK BENNY PROGRAM (10-31-43) The sponsor pays Jack a visit on this Hallowe'en night broadcast. HALLS OF IVY (11-1-50) On the day after Hallowe'en, the Halls assess the work of pranksters and investigate damage to Faculty Row. PLUS: Ken Alexander with Yesterday's Newspaper.