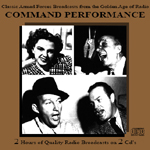 Command Performance
$13.95
#DCP901

(2 hours on 2 Compact Discs)

COMMAND PERFORMANCE – produced by the Armed Forces Radio Service during and just after World War II, this all-star series of programs featured the greatest stars of stage, screen and radio, donating their services as a contribution to the war effort. Three complete programs:
DICK TRACY IN B FLAT (2-15-45) Hour-long show billed as "The First Comic Strip Opera of All Time," this spoof of Chester Gould's popular Dick Tracy boasts one of the greatest casts ever assembled on one stage for a single radio broadcast: Bing Crosby as Dick Tracy; Dinah Shore as Tess Trueheart; Harry Von Zell as Old Judge Hooper; Jerry Colonna as Police Chief; Bob Hope as Flattop; Jimmy Durante as The Mole; Judy Garland as Snowflake; Frank Sinatra as Shakey; Cass Daley as Gravel Gertie; Frank Morgan as Vitamin Flintheart; Andrews Sisters as Summer Sisters.
JUDY'S NEW PICTURE (6-29-44) Judy Garland, Bob Hope Bing Crosby and Frank Sinatra star when Judy "auditions" leading men for her new motion picture.
FRANKIE AND THE KIDS (4-16-45) Emcee Frank Sinatra welcomes Frances Langford, Elizabeth Taylor, Margaret O'Brien, Roddy McDowell, Peggy Ann Garner, and Gary, Philip, Dennis and Lindsay Crosby. Frankie takes a beating at the hand of these kids.