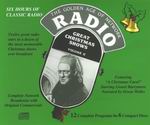 Great Christmas Shows - Vol. 2
$29.95 $24.95 On Sale!
#DCS2023

(6 hours on 6 Compact Discs)

GREAT CHRISTMAS SHOWS Volume 2– AMOS 'N' ANDY (12-24-50) Andy is a department store Santa and Amos tells his daughter the meaning of the Lord's Prayer; BING CROSBY (12-25-46) Bing tells the story of "The Small One"; BURNS AND ALLEN (12-18-44) George and Gracie decide not to exchange Christmas gifts this year; FIBBER McGEE & MOLLY (12-22-42) Teeny and the kids sing "The Night before Christmas" for the first time; JACK BENNY (12-26-43) Party at Jack's house; LIFE WITH LUIGI (12-20-48) Pasquale's name is not on Luigi's Christmas list; NERO WOLFE (12-22-50) Case of the Slaughtered Santas; RED SKELTON (12-24-46) Deadeye and Junior celebrate Christmas; RICHARD DIAMOND, PVT. DETECTIVE (12-19-51) Their version of "A Christmas Carol"; THE WHISTLER (12-24-50) Three Wise Guys; CAMPBELL PLAYHOUSE (12-24-39) Lionel Barrymore stars as Scrooge in "A Christmas Carol" narrated by Orson Welles.