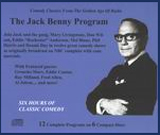 Jack Benny Program
$29.95 $22.47 On Sale!
#DJ1015

(6 hours on 6 Compact Discs)

JACK BENNY PROGRAM– Jack and the gang in 12 great shows, complete with commercials. (2-20-44) The Gilroy Murder Case with guest Groucho Marx; (2-27-44) From the Hollywood Canteen with guest Eddie Cantor; (3-10-46) "The Lost Weekend" with guest Ray Milland; (5-25-47) Guests are Fred Allen and Jack Parr; (2-17-46) Jack's birthday; (2-24-46) A "Life Can be Beautiful" program; (5-11-47) Jack is appearing at the Chicago Theatre; (5-18-47) From New York with guest Al Jolson; (4-8-51) Jack has income tax problems; (4-15-51) More tax problems with guests Ronald and Benita Colman; (4-1-51) Preparing for a trip to New York; (2-13-44) From Marsh Field, California, Jack offers a prize to anyone who guesses his age.