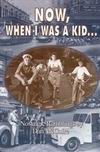 Now When I Was A Kid Book
Nostalgic Ramblings by Dan McGuire
Foreword by Chuck Schaden

A nostalgia trip back to an era when life was less complex and moved at a slower pace. From a kid's perspective, it recalls the joys of growing up in a small town from the late 1930s through the early 1950s. Danny McGuire and a host of neighborhood kids were free to roam anywhere and play everywhere. With "big city" Chicago just a trolley ride away, they enjoyed the best of two worlds. It was a time when folks knew their neighbors and would stop to "set a spell" on someone's front porch to share neighborhood news. Because folks looked out for each other, kids could wander off for hours without alarming their parents. But they'd best be home in time for supper if they "knew what was good for them!" A collection of recollections which originally appeared in the Nostalgia Digest. 300 pages, dozens of photos, 6x9, softcover book.