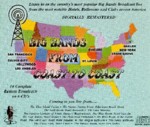 Big Bands From Coast-to-Coast
$39.95 $29.95 On Sale!
#BCCD919

(6 hours on 6 Compact Discs)

BIG BANDS FROM COAST-TO-COAST Listen to the country's most popular Big Bands broadcasting live from the most notable hotels, ballrooms and clubs across America: Larry Clinton, Will Osborne, Guy Lombardo, Duke Ellington, Charlie Barnet, Cab Calloway, Jan Savitt, Gan Garber, Tommy Dorsey, Desi Arrnaz, Griff Williams, Chuck Foster, Erskine Hawkins, Raymond Scott and Benny Goodman. 14 digitally remastered band remotes plus 28-page Program Guide by big band historian Karl Pearson.