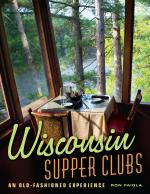 Wisconsin Supper Clubs: An Old Fashioned Experience
$35.00 $26.25 On Sale!
#WSC

Wisconsin Supper Clubs An Old-Fashioned Experience
By Ron Faiola
This charming book explores the decades-old tradition of the supper club, a term thatíscome to to represent a distinctly Wisconsin-style dining establishment. Most of these supper clubs are family owned, and they are designed to function as hubs for people to get together and enjoy an evening of home-style food and good company. Wisconsin Supper Clubs brings these clubs to life featuring profiles of more than 50 supper clubs - some decades old from all around the state. Youíll get an intimate look at this tradition through interviews with proprietors and customers. With hundreds of beautiful full-color photographs that showcase the unique features and food of each club. Ron Faiola is an award-winning filmmaker who directed and produced the documentary Wisconsin Supper Clubs , and speaks engagingly about the long history and popularity of supper clubs.
Hardcover Book. 224 Pages. Hundreds of full-color photographs.