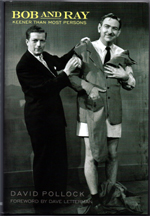 Bob and Ray Keener Than Most Persons
$27.99 $16.75 On Sale!
#BRK

Author: David Pollock
Forward by: Dave Letterman

Bob Elliott and Ray Goulding were true game changers. Never playing to the balcony, Bob and Ray instead entertained each other. Because they believed in their nuanced characters and absurd premises, their audience did, too. Their parodies – broadcasting about broadcasting – existed in their own special universe. A complete absence of show-biz slickness set them apart from the very institution they were mocking, yet were still a part of. They resisted being called comedians and never considered themselves "an act." Bob and Ray, Keener Than Most Persons traces the origins and development of the pair's unique sensibility that defined their dozens of local and network radio and TV series, later motion picture roles, Carnegie Hall performances, and hit Broadway show Bob and Ray – The Two and Only.
Hardcover Book: 320 pages, including 22 pages of photographs.