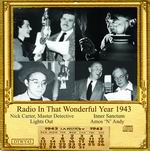 Radio in That Wonderful Year 1943
$12.95
#DTWY43

(2 hours on 2 Compact Discs)

INNER SANCTUM (3-7-43) "The Black Seagull" starring Peter Lorre. Before she dies, a woman who suffered a fatal accident at sea, vows to "come back" to her husband, who is convinced that she will return to him. NICK CARTER, MASTER DETECTIVE (8-2-43) "Murder in the Crypt" starring Lon Clark as Nick Carter, searching for the Royal Treasure of King Snafu. LIGHTS OUT (5-11-43) "Murder in the Script Department." Strange things happen to a pair of broadcast studio typists who are given an after-hours assignment to type a 'Lights Out' script written by Arch Oboler. Mercedes McCambridge. AMOS 'n' ANDY (10-8-43) First program in the new half-hour format, first program broadcast before a live audience and first program with a guest star. Freeman Gosden and Charles Correll appear as radio's all-time favorites. The Kingfish helps Andy find a wife and an apartment in a hurry for the benefit of a rich uncle. Guest is actor Charles Coburn.