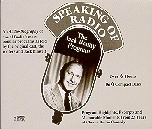 Speaking of Radio: The Jack Benny Program
$29.95 $22.47 On Sale!
#DSOR39



(6 hours on 6 CDs)

JACK BENNY AUDIO-BIOGRAPHY – The history of one of radio's most popular programs as told by the people who made it great! Features personal recollections by Jack Benny, Don Wilson, Dennis Day, Phil Harris, Frank Nelson, Mel Blanc, Sheldon Leonard, Elliott Lewis, writers George Balzer and Milt Josefsberg, Manager/Author Irving Fein, and Joan Benny. Conversations recorded between 1970-1993 by Radio Hall of Fame broadcaster/historian Chuck Schaden. INCLUDES hilarious highlights from 23 years of the Jack Benny Program.